Introducing the Weichert iPhone App
If you're searching for a new home and wondering what you can do with our iPhone app, the better question is "what can't you do?" Not only does our app offer you all the key functionality of weichert.com and a range of convenient features based on GPS, but it offers even more advantages you can really use once you open a myWeichert account. First and foremost, myWeichert now offers you "myWorkbook," a terrific group of features to help you organize and keep track of all the properties that attract your interest.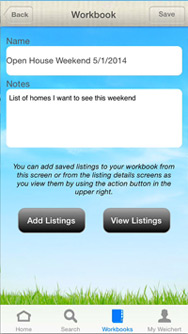 myWorkbook features
Group properties any way you like (e.g.: all seen on one day, all in the same town, all with central air)
Add notes about each property as you view it - no need for pencil and paper
Add notes about the group as a whole
Add listings you previously saved or new ones as you find them
Workbooks you create on your iPhone are viewable on weichert.com and vice versa
Share listings and/or photos via email, Facebook or Twitter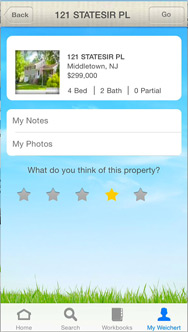 myWeichert features
Save listings for later reference
Save search criteria
The "Saved Data/Tools" feature lets you add notes and rate properties
Your data is automatically shared between Weichert.com and your iPhone
Uploaded photos can also be viewed on Weichert.com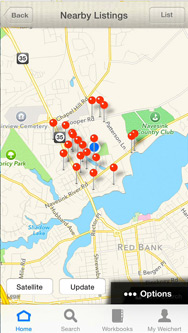 GPS-based features
Search for all homes for sale within 2 miles of your current location
Search only for open houses within 2 miles of your current location
Select your own maximum radius for your search (1, 2, 5, 10, 25)
Choose the Bird's Eye view of any listing
Get driving directions to map a route between Open Houses or to drive by any property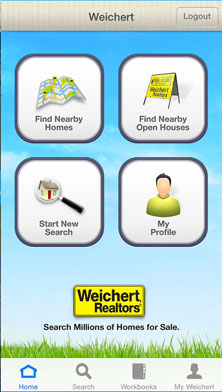 We will be releasing an updated version of the IPhone App so be sure to check back!