Weather Protection Plan
January 20, 2014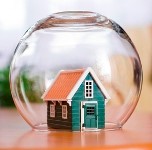 Owning real estate is one of the most valuable investments that someone can make.
For buyers and sellers in the market today, protecting that investment is a necessity. Preventative measures are the key to safeguarding your ho me. To keep the foundation of property strong, the cornerstone of prevention is in its upkeep.
Weather is typically the main culprit in systematically damaging a property. A homeowner must take the steps to defend their house against heavy rain and snow. A crucial part of prevention is to actually avoid any water entering in the first place. Installing downspouts, regularly cleaning the gutters, and having proper drainage is essential in counteracting the long term effects of moisture inside of a home. Even a little moisture can lead to considerable damage if not treated properly. Wet wood may lead to mold, mildew, and rot. Termites and carpenter ants are also attracted to wet wood and can cause even further destruction and also increase the cost of repair.
Homeowners should check their roof every year and repair any leak that they may come across. Installing tools to prevent any water entering the home is extremely beneficial. A battery operated sump pump can be a highly valued asset to keep water out and will work in the event of a power outage.
Concisely, regular inspection should always be done. Homeowners should look for signs of a leak by checking pipes, sinks, toilets, and any dark stains on the ceiling. In protecting your investment, you should not overlook a small drip as it could escalate into a bigger problem. By taking these preventative measures, you are not only protecting your home, but the precious cargo living inside.