Little-known Facts About Orlando, Florida!
June 30, 2015
Discover more than theme parks in Orlando!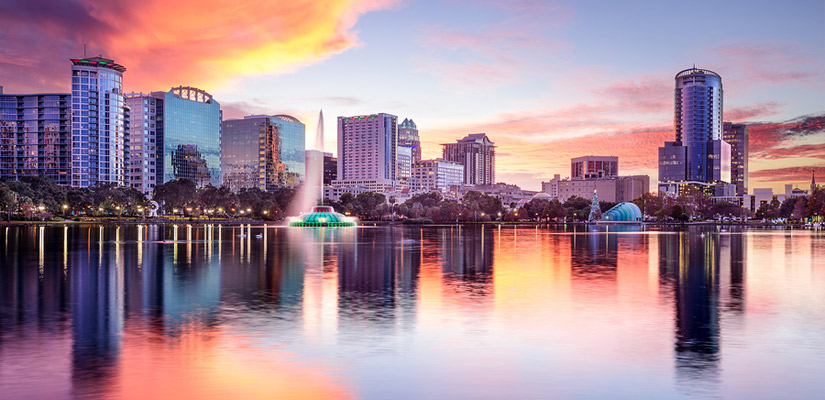 7 Little-known Trivia Facts about Orlando, Florida
Known for its theme parks, golf communities and tourist attractions, central Florida may seem like another bustling city with a slight twist. Locals and savvy travelers know that Orlando has tons of little-known local facts, locations and hideaways that make the City Beautiful a fun place to live, discover and call your own.
1. Breakfast at Tiffany's
The Charles Hosmer Morse Museum of American Art is located in Winter Park, just north of downtown Orlando. Do you adore Tiffany lamps? Great news! This museum is home to the biggest collection of Tiffany glass anywhere in the world. Louis Comfort Tiffany's work includes pottery, paintings, art glass, leaded-glass lamps and windows; his chapel interior from the 1893 World's Columbian Exposition in Chicago; and art and architectural objects from his Long Island country estate, Laurelton Hall. The facility offers you different exhibitions and programs, including film series and other special artwork. You can get to the museum via the SunRail, which is just a five-minute walk away. Docents and curators offer tours throughout the week, and gallery talks are scheduled periodically.
2. Eat Your Way around Orlando
According to the fun-fact website NileGuide.com, it would take five years to eat at all 5,300 Orlando restaurants, if you ate breakfast, lunch and dinner at a different central Florida restaurant every day. Some of the more popular restaurants include Seasons 52 on Restaurant Row, a stretch of Sand Lake Road in the Dr. Phillips area, Pom Pom's Teahouse and Sandwicheria in downtown Orlando, The Attic Door in historic Winter Garden, and the eclectic, artsy Cafe Tu Tu Tango on International Drive, located smack dab in the heart of the tourist section of town.
3. Rich History Abounds
Downtown Orlando's Church Street Station was built in 1889. Included on the National Register of Historic Places list, this section of downtown is alive with a variety of cuisine, clubs, bars, tapas, and venues for corporate events, weddings and more. This is one area you can't ignore! Nearby is the Amway Center, which features NCAA basketball events, tons of popular musical guests and other special shows. Ceviche Tapas Bar & Restaurant is a popular after-work dinner place, and Hamburger Mary's claims to have Orlando's best burgers, in addition to cabaret shows, trivia nights and a very sassy bingo night. Intrigued yet? Another claim to fame is that Jack Kerouac lived in the College Park neighborhood in 1957 when "On the Road" was published.
4. Ready for Your Closeup?
Orlando is a popular city for movie scouts, with tons of films shot on location in the City Beautiful. There are numerous background and extra casting agents in central Florida, like FrontRunner Casting, which provides extras for movies, music videos, TV shows, commercials and more. Lethal Weapon 3 had footage of the old Orlando City Hall demolition in its opening scene, and the Charlize Theron and Christina Ricci movie, Monster, took place in Orlando. The Waterboy, Days of Thunder, Parenthood, Transformers, Apollo 13, Armageddon, 2 Fast 2 Furious, Magic Mike,Sydney White, My Girl and Ocean's 11 all had scenes shot here. Is your head spinning from all that Hollywood-meets-Orlando excitement? The new movie from Disney, Tomorrowland, starring George Clooney, includes great shots of the city. For a blast from the past, the 1967 novel-turned-major motion picture, Cool Hand Luke, starring Paul Newman, was based on Donn Pearce's experiences on a Florida chain gang.
5. Watersports, Boating and Swimming, oh my!
Orlando is home to more than 100 lakes, which makes for amazing opportunities to dine lakeside, spend afternoons swimming in pristine, fresh water, or participating in a variety of water sports like wakeboarding, boating, waterskiing, tubing, jet skiing and wakeskating. Companies like Buena Vista Watersports offer many experiences, from chartered boats and jet ski rentals to canoe, kayak and tubing. The recreational water sports facility is located near Disney World on Lake Bryan, and it also offers lessons by professional instructors. Florida natives are known for celebrating everything on the water, from birthdays and weddings to retirement parties, and everything in between.
6. What's in a Name?
Orlando Reeves fell to his death during a battle with the Seminole Indians in the 1800s, and there is a plaque at Lake Eola, downtown Orlando's central lake, commemorating this event. A rumor still circulates that the city is named after Reeves, but nothing has been produced to support the claim. Although the city was incorporated in 1875, most people outside of Florida did not know Orlando existed until Walt Disney opened the doors to Disney World in 1971. It's no wonder that most people associate Disney with Orlando -- the entire Walt Disney World resort is 40 square miles, which is the same size as the city of San Francisco! According to Carlson Wagonlit Travel's Trends Survey, Orlando is now the second-most popular domestic travel destination in the country, after Las Vegas, Nevada.
7. Education is Important to Central Florida
More than 20 colleges and universities call central Florida home, with the University of Central Florida leading the pack as the region's largest institution for undergraduates. The school was ranked among the country's top 100 public schools in 2014 by U.S. News & World Report, which also hailed UCF as one of the top 15 up-and-coming schools in the nation.
Could you imagine living in a city so rich in history, with unique communities and vibrant neighborhoods? Check out Orlando homes for sale!