The Best New Eateries in Hickory, North Carolina
June 25, 2015
A taste of some of the dining experiences Hickory has to offer.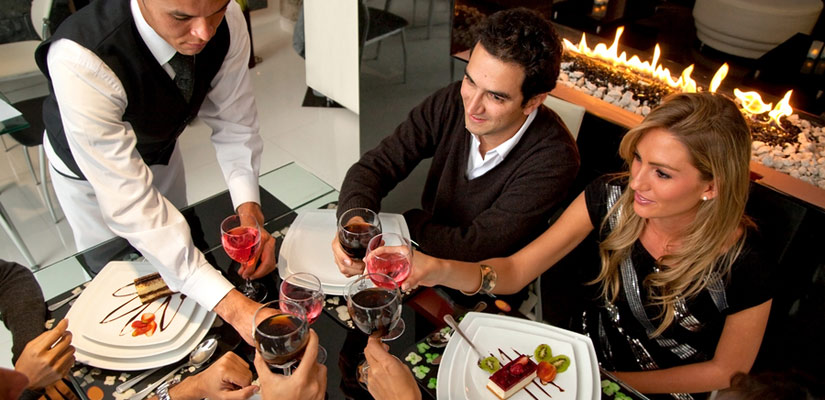 The Best New Eateries in Hickory, North Carolina
Catawba County's best kept secrets are about to be let out of the bag. People are coming from all around the region to investigate the original and eclectic eating options in Hickory, North Carolina.
Here's just a taste of Hickory's newest restaurants competing for your dining dollars.
Highland Avenue
Many people have commented that this upscale dining venue redefined the culinary landscape of Hickory, North Carolina. Just over a year ago, executive chef Kyle McKnight brought his expertise in locally sourced ingredients to building this unique farm-to-table dining experience. The focus is squarely on New American cuisine with a Southern flair. That means fresh Appalachian trout just pulled from a mountain stream, down home shrimp and grits, and breads made from scratch in-house. It's also one of the few establishments in the area that cures its own meat. The menu is always changing with the seasons, highlighting the best of what Hickory producers and surrounding farms have to offer.
Di'lishi Frozen Yogurt Bar
Sometimes, a little something sweet is all you need. Like the Highland Avenue restaurant, this healthy dessert factory just launched in the recently renovated Hollar Hosiery Mill building. It's all self-serve, with plenty of original probiotic yogurt flavors and tons of creative toppings, so you can craft your own edible art project. Many of the toppings are fresh fruit from nearby farms, like strawberries, and exotic fruit from far away, like kiwis and pineapples. There's plenty of room inside to stretch out on a couch or run a quirky business meet-up in one of the private rooms. They are committed to taking care of the environment and giving back to the community, so you can feel good about eating well.
Youssef 242
You may not expect to find world class European meals at the foot of the Blue Ridge Mountains, but this new and thoroughly unique bistro offers just that. Prix fixe menus offers delights like the petite filet with leeks and a pastiche of local mushrooms. Seafood aficionados will enjoy bay scallops with roasted vegetable quinoa and maple marscapone. It's been recognized by Wine Spectator with an Award of Excellence and won OpenTable's 2015 Diners' Choice Awards.
Umi Japanese Restaurant
In the new development region on the northeast end of Hickory, Umi Japanese adds the authentic taste of the Far East to area's local dining options. Shrimp tempura, shokado bento and a full sushi menu are top of the line fare for exotic meals in a distinctive environment. Those who have traveled to Japan will be delighted to re-experience real Japanese meals like they remember rather than what typically passes for Japanese food in America. Be sure to investigate their recently expanded Sake selection as well.
El Paso Mexican Restaurant
For authentic South of the Border meals, it hard to top this value-conscious option. The Mexican heritage décor helps to transport you to another world full of spicy fajitas, burritos to enchiladas. You can even watch the tortillas being made by hand as you dine. One of their most popular classic dishes is the molcajetes with carne asada, banana peppers and nopales, covered in picante. Unless you're on your way to Raleigh-Durham Airport for a non-stop to Guadalajara, this is the best place to find the kind of Mexican meals you dream about.
Vintage House
In the historic Oakwood neighborhood, you can now experience the finest in fine dining inside a 100-year-old mansion, Hickory's Abernethy House. Well-respected local chef Matt Parker delivers elegance with his new menu of delicacies like grilled filet of Muscovy duck breast drizzled with a ginger-mint glaze and freshly caught wild fish from North Carolina streams. The addition of new wine tastings and private dining rooms transform this location from a restaurant into a world-class luxury experience.
Bistro 127
Nature lovers in Hickory, North Carolina are flocking to this new semi-casual dining option for their rotating menu that uses all natural and organic ingredients. Expect to be amazed by their old-fashioned omelets, crepes and specialty breakfast items. They are also gaining notice for their gourmet brick oven pizzas and tapas. More adventurous diners can try the trout, freshly caught in nearby waters and set off with all natural wild mushroom risotto. The adjacent Bootleggers Whisky Bar makes a great way to cap off a very special evening.
What Brought All This Great Food to Hickory, NC?
Over the past few years, Catawba County has been attracting national employers, high culture, great entertainment and amazing restaurants centered around the City of Hickory. You may not realize that 60 percent of the nation's furniture is produced within a 200-mile radius of Hickory, but there's more to it than that.
Google and Apple have just built their mission critical data centers here to take advantage of the abundant sunshine and pro-business environment. Homes for sale in Hickory, NC, have an estimated median price of around $199,000, with homeowners far outnumbering renters (70 percent vs. 30 percent).
After an amazing meal presented with Southern hospitality, you could enjoy the Hickory Museum of Art, the Western Piedmont Symphony or a theatrical event at the Hickory Community Theater. There's much more to see in and around Hickory, NC, but the restaurants alone may keep you busy for quite some time to come! If you're thinking about living in Hickory, there are plenty of wonderful homes to choose from as well!