A Pet-Friendly Home is a Happy Home
January 5, 2015
No need to sacrifice comfort or style when you have pets!
There's nothing like being greeted by your pet after a long day of work. That is, unless, you can smell your pet as soon as you open the door. Whether you have a long-haired cat or super active dog, it would be nice to have your home pet and home-owner friendly (while keeping guests who may not love your pet as much as you do happy). Here we share tips on how to do just that!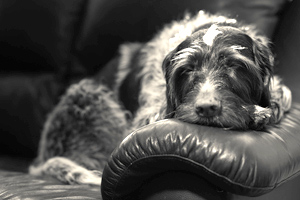 It's all in the fabric. Choose stain-resistant fabrics for your furniture. Avoid fabrics like velvet that would basically be a magnet for any pet hair (and your hair!).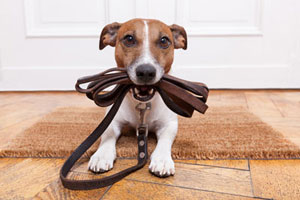 Find the best flooring. Hard surface floors are the easiest as far as cleaning goes. Ceramic tile is a great choice as it won't get scratched by toenails. Hardwood is a cinch to keep clean with mops! Just be wary of your big dogs, as they may scratch natural wood.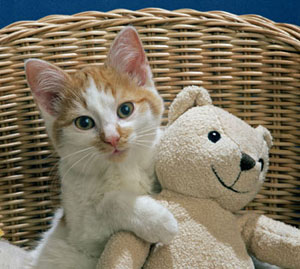 Organize the toys. Find an attractive basket or another type of storage container to keep pet toys all in one place. Easier for your pet to find, and easy for you to put away when guests come over. Toss the smelly ones after a while - your pet will be happy with a new, fun toy!
Keep them clean. Proper grooming of your pet can keep odors at bay. Brush them regularly to remove the loose fur. It is so much easier to clean your pet (and sometimes fun, if they like it) than your curtains and furniture. Your home will stay cleaner much longer when you are proactive about collecting the pet hair!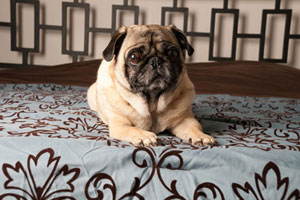 Use washable where they sleep. If your pet sleeps on your bed (or their own), be sure to use something easy to wash like a duvet cover. This way if accidents happen, the bedding can be stripped easily and washed quickly. Bedsheets with a pattern can disguise pet hair for those times between washings as well.
Vacuum often. Simple and true, constant vacuuming is the best way to rid your home of pet hair tumbleweeds and anything else they may bring into your home with them. Use the hose attachment and vacuum off your furniture as well as curtains or any other surface that may get covered in pet hair.
Follow these tips to keep you and your pet happy at home! More Home Improvement Tips Here