Making the Most of Your Space
April 28, 2015
How to make your space look and feel much bigger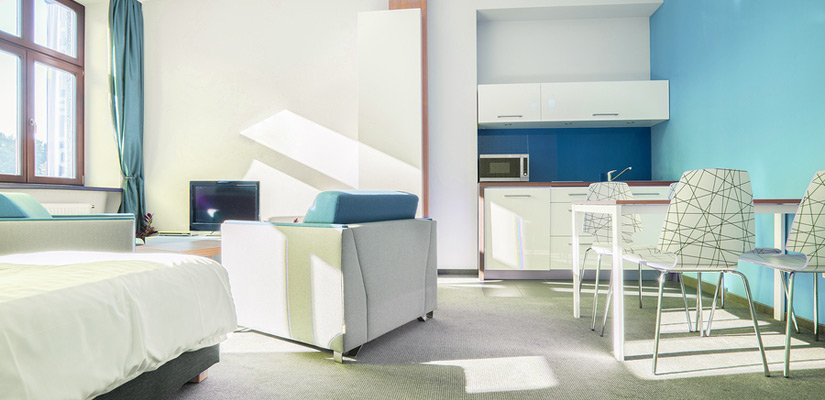 Whether you live in an apartment that's tight on space or simply a house with smaller rooms, there is always a way to make your rooms appear larger. Forget the idea that you need to furnish with tiny furniture. Pay attention to your window treatments. Paint color is important too. Here we narrow it down to just a few steps you can take to make the most of your space and enjoy your time at home!
Multi-functional Furnishings - There are pieces of furniture out there that can look deceiving. A flip table that can go from a low coffee table style to a raised dining table eliminates the need for multiple tables in a living space. A sofa that can easily transform into a sleeper makes more room if you're having guests stay the night. A desk can be transformed into a table when needed. Comfortable chairs that can double as a desk or dining chair would work. Think outside the box.
Color Scheme - There is no need to stick to one paint color in a small room. Think about an accent wall. Cobalt blue against 3 white walls will make the room appear wide open. You might even consider a focal wall with stripes. Black and white is classic and pretty much matches every color scheme. Splashes of color throughout the room will add depth. Paint the windowsill a fun color, and maybe even the radiator if it is visible. It's easy to brighten a room with funky printed lamp shades and eye-catching throw pillows.
Lighting - The lighting of a room is really essential in opening up the space you have. Luckily, torchiere lights have come a long way and are available in many styles and even colors. They will cast light onto the celling and then back down on the room for a bright appearance. Recessed spot lighting will also make the space appear larger and visually appealing. If you have large windows, don't cover them up with heavy drapes. Exposing natural light in your room is a wonderful way to make it feel more open and bright.
Wall Décor - Another way to brighten a room and give it a more spacious feel would be to add a large painting to one wall. Too many prints on a wall may make the room look small and possibly cluttered. Choose a painting that reflects your personality and make the room your own. Beachscapes are always relaxing and inviting. Picture the inviting sandy beaches of Cape May on a warm August afternoon. If you are up for something a bit bolder, consider a mirrored wall. Not only do these wall mirrors reflect images in the room, they also reflect color and light.
Odds and Ends - Although they may seem futuristic and not functional enough, Lucite® table and chairs really do an amazing job of tricking our eyes into seeing more space than there actually is. If you've got hardwood floors and need an area rug to warm it up, think stripes. Stripes will elongate the room and definitely make it seem like there is more space. Have a bookshelf? Don't fill up all the shelves! Give your knick-knacks and books breathing space. Color coordinate if you can! If you've got a set of hard cover books that are all in the same color family, add a vase or bowl that matches and blends in. Better yet, paint the bookshelf to make it a focal point in the room. It's also a good idea to have furniture with exposed legs. This lifts the furniture up and frees up the space that a sofa skirt would otherwise be hiding. Move your furniture away from the wall. This creates an illusion of space while making what space you do have more accessible to the light coming through.
Just because you live in a small home or tiny apartment, it does not mean that you cannot make the most of your space! Bigger is not always better when it comes to home décor and making your rooms appear larger and brighter. Some people choose to downsize after their kids have left the nest, or even just want less space than what they have. Put your own unique spin on your space and enjoy every moment at home!