The Largest Homes in America
June 26, 2015
A look at the biggest privately owned homes in the US and their owners.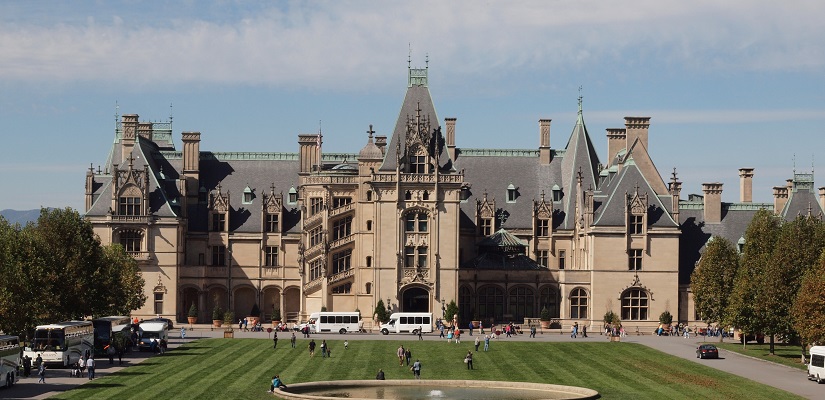 While a trend towards micro-apartments has taken place in many US cities and shows like "Tiny House Nation" showcase what can be packed into minimal square footage, most homebuyers see bigger as better. The 2010 census puts the average size of an American single family home at 2392 square feet. The following homes often pack that into one room. These are the largest privately owned homes in the US. Homes currently owned by colleges, museums and similar institutions were excluded.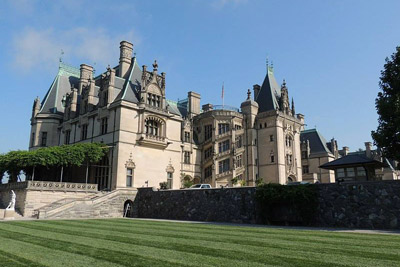 Biltmore Estate - Asheville, NC - At nearly 180,000 square feet, Biltmore Estate is by far the largest private residence in the US. It is nearly 70,000 square feet larger than the #2 property. Built by George Washington Vanderbilt over a 6 year period in the late 1800's, Biltmore is currently occupied by Vanderbilt descendant William A.V. Cecil. The home features 252 rooms, 33 bedrooms and 43 bathrooms. While privately occupied, the estate is also one of the largest tourist attractions in North Carolina and operates a dairy farm and winery. You may recognize the estate from being featured in such films as Forest Gump and The Last of the Mohicans.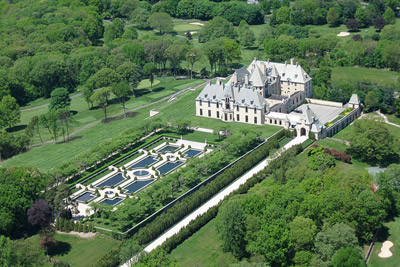 Oheka Castle - Huntington, NY - While privately owned by Long Island developer Gary Melius, Oheka Castle does not currently exist as a residence. The property is now used as a luxury hotel, wedding venue and conference space. Guests at Oheka Castle enjoy over 109,000 square feet and 127 rooms. It is one of only 3 residences to be built over 100,000 square feet in the US. The property gained recent notoriety after being featured in Taylor Swift's "Blank Space" video.
Versailles - Windermere, FL - Scheduled to be completed in 2016, Versailles is modeled after the French palace of the same name. Owned by timeshare mogul David Siegel, the construction of the property was detailed in the 2012 documentary The Queen of Versailles. The property has been under construction for over a decade and is estimated to be 90,000 square feet when completed. Construction of the property was halted during the financial crisis and the property was listed for $65 million. Siegel's finances recovered and the property will be worth an estimated $100 million when completed.
Pensmore - Highlandville, MO - Depending on who you speak to, Pensmore is either the future home of a successful software and concrete mogul or the future location for a secret government that will rule the world. The 72,000 square foot residence being constructed by Steven T. Huff has become a favorite topic of conspiracy theorists who insist nefarious purposes are behind its construction. Whether family home or secret government lair, residents will be living in style. The property will feature 13 bedrooms, 14 bathrooms, home theater and a library that is larger than many single family homes at 1600 square feet.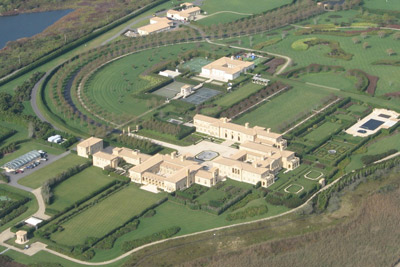 Fairfield - Sagaponack, NY - By some measures, Fairfield is the most expensive home in the US. Owned by Wall Street financier Ira Rennert, Fairfield's 2007 property taxes were a whopping $400,000. Using those numbers, the home has an estimated value of $198 million. Construction of the property caused controversy throughout Long Island detailed in the 2000 book The House That Ate the Hamptons. Residents originally believed the property was going to be a hotel or spa. When it became known that the property would become a private residence it set off a political firestorm. The main house measures in at 66,000 square feet while guest and staff residences push total square footage to over 110,000 square feet.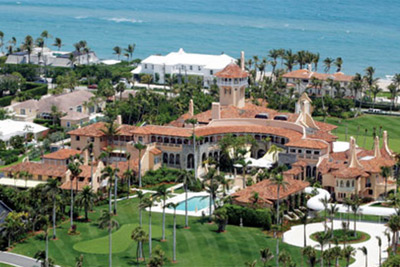 Mar-A-Lago - Palm Beach, FL - What list of lavish homes would be complete without featuring The Donald? Mar-A-Lago was purchased by hotel mogul, reality show host and now presidential candidate Donald Trump in 1985. Guests of Trump enjoy 58 bedrooms, 33 bathrooms and a reported 3 bomb shelters. Michael Jackson and Lisa Marie Presley spent their honeymoon at Mar-A-Lago which means "sea to lake" in Spanish.