The Coolest Dorms in America 2015
August 31, 2015
We've updated our Coolest Dorms list for 2015. Which 6 colleges make this year's list?
There is nothing like buying your first home. But moving out on your own during freshman year of college might be a close second. Last year we brought you 5 of the coolest dorms in America. With millions of students making their first move from home we took another look at which colleges offer the best and most unique living experiences. Here are the Coolest Dorms in America for 2015.
The Hub - University of Arizona - Tucson, Arizona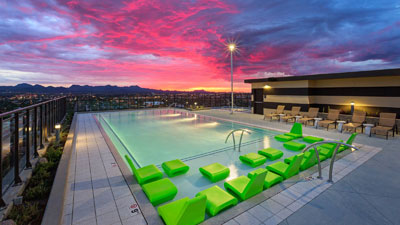 If you didn't know any better and were looking at pictures of The Hub at the University of Arizona you might think you were seeing pictures of a boutique Las Vegas hotel rather than a dorm. At The Hub, you can enjoy unobstructed mountain views from your private balcony's hot tub. Or head up to the rooftop which features a pool, billiards and foosball tables. There is a 22 foot LED outdoor TV screen with stadium seating and barbecues for U of A football gamedays. Students can keep in shape at a state of the art fitness center and relax in the spa complete with sauna and steam rooms. We think a lot of parents may head back home a bit jealous of their kid's new digs when leaving The Hub.
Callaway House - University of Texas - Austin, Texas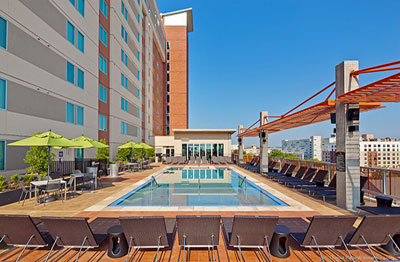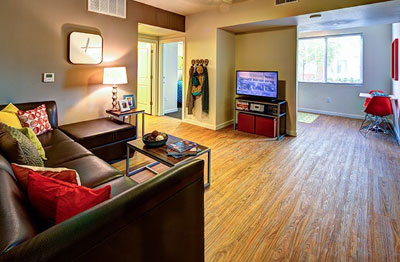 The Callaway House features an awesome rooftop pool, a 4600 square foot recreation lounge and 2400 square foot fitness center. But where it really shines is in the rooms themselves. Each room features hardwood floors, granite countertops, leather sofas and in-suite housekeeping. Knowing how most college students live, hopefully housekeeping gets paid well.
Student Village 2 - Boston University - Boston, Massachusetts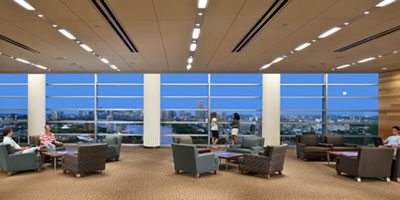 Last year's list featured Founders Hall sitting in NYC's Greenwich Village. This year, Boston University's Student Village is our big city featured dorm. This 26 story high rise features amazing views of just about every Boston landmark. Sweeping views of the Charles River, the State House dome, Bunker Hill and planes taking off from the airport are all visible from StuVi2 as it is known to students. Boston professionals would pay a small fortune to live in similar style.
Campus Recreation Center Housing - University of Cincinnati - Cincinnati, Ohio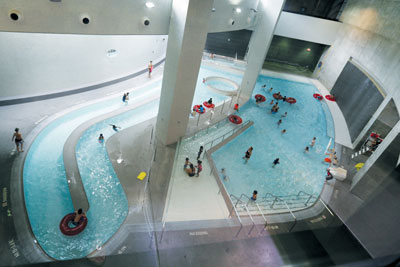 If you are a fitness buff you will be hard-pressed to find better college accommodations than at Campus Recreation Center. Attached to the mammoth 200,000 Sq Ft recreation facility, the residence hall at Campus Recreation Center houses over 200 University of Cincinnati students. Which means those living there have easy access to rock climbing walls, an Olympic swimming pool, hundreds of weight and cardio machines, racquetball courts, lazy river and more. Students lucky enough to live there have a college experience that improves mind and body.
Williams Village North Hall - University of Colorado - Boulder, Colorado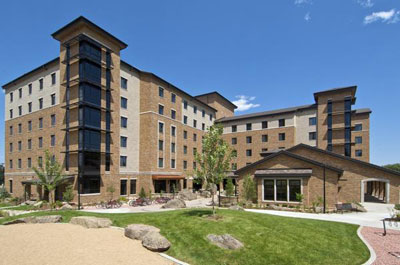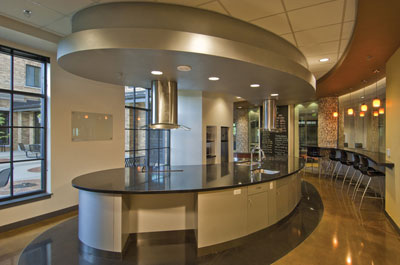 Williams Village North Hall at University of Colorado makes our list for its incredible efforts in eco-design. The buildings has earned LEED Platinum status the toughest certification in sustainable design. It is the largest building in the country to receive this status. It is estimated to be 40% more energy efficient than other buildings its size. It features solar panels which generate over 10% of the building's electricity, water bottle refilling stations and was built using various recycled/re-used materials.
Adirondack Tents - St Lawrence University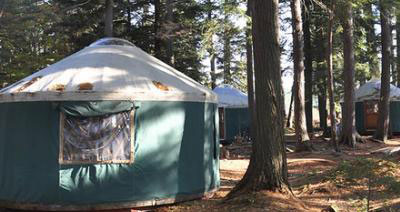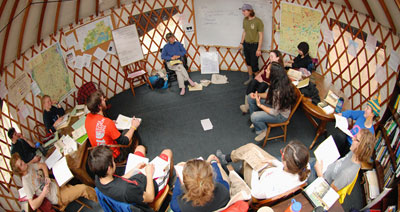 While not for everyone, the opportunity to live in the wild during an "Adirondack Semester" is as unique a college experience as you will find. Students leave campus and live in the Adirondacks taking classes in environmental issues, living simply and conservatively. Students must do without what many college students can't dream of abandoning: laptops, cell phones, television. Students are allowed a weekly trip away from camp to do laundry and contact family. Compared to the amenities at some of our other dorms on the list, the Adirondack Semester is definitely roughing it.