The Colorful Home
March 5, 2015
What does your favorite color say about you?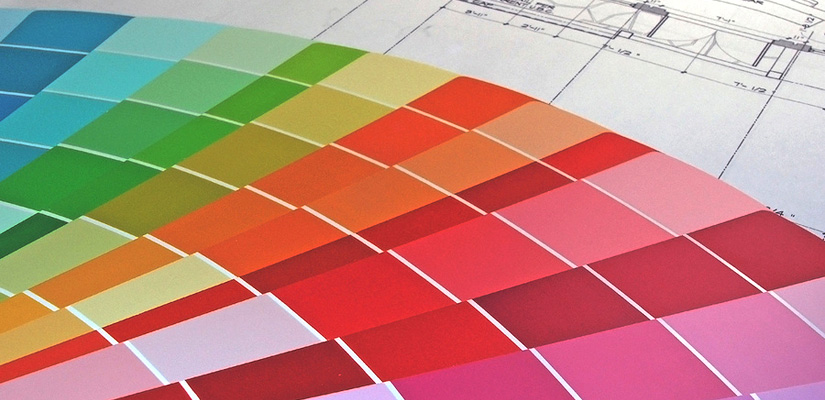 Do you ever wonder why you gravitate towards the same color scheme, even in your home décor? Perhaps it is because of the feelings that gazing at your blue walls stir up, or the energy that your yellow kitchen gives off. Let's explore some colors and what they might mean to you.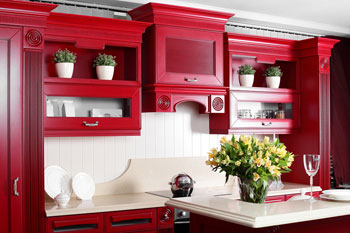 Red - Love is in the air when red is around! Red can signify excitement and romantic feelings. Imagine red hearts and a dozen bright red roses. Red is an emotionally intense color that is often used in restaurant décor. Red typically raises excitement and energy so it makes a natural choice at home for a living area.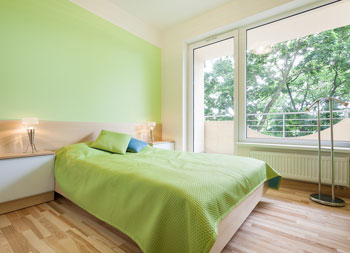 Green - Put simply, green symbolizes nature. It is not surprising that green is the most popular color to decorate with. Green evokes composure and tranquility. Think palm trees, lush green grass, and full blooming trees in the springtime. Many people choose to use green in the bedroom due to its comfortable feeling.
Blue - Another color that symbolizes nature in the form of the crystal blue sea and sky found in beautiful Miami Beach, FL. Picture the various blues of the ocean and a cloudless sky on a perfect summer day. Studies have shown that people are more productive in rooms with a blue color scheme. Blue is soothing and calming, perfect for any room in your home where you go to relax.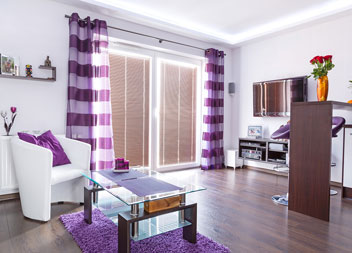 Purple - This intense hue is known as the color of royalty. Purple also symbolizes power and sophistication. The image of purple mountain majesties comes to mind. This shade stimulates the creative part of the brain. A purple painted accent wall can change the look of a room from boring to bold. Using this color at home can make it appear more luxurious.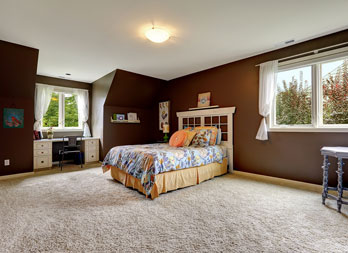 Brown - Think of cocooning and being surrounded by warmth. Brown symbolizes the color of earth. Earth tones are quite popular in home décor, as shades of brown evoke a comfortable, cozy feeling. Neutral bedding in shades of brown are perfect for a peaceful night of sleep. Lighter shades may be best for living space while darker may suit a man cave.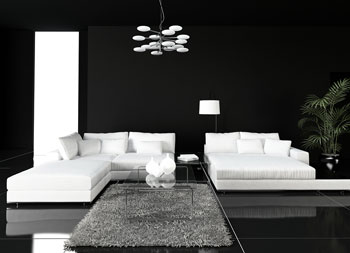 Black - Back signifies sophistication and elegance. Black is a very dramatic hue that is often paired with white for a classic look. Think of the shiny, classic black and white flooring or a beautiful grand piano. In fashion, black has timeless elegance and can be the same at home for those who dare to add touches of it.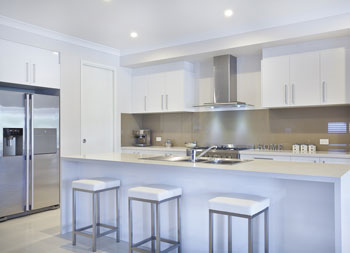 White - The most popular kitchen color, due to its ability to reflect light and match everything. White symbolizes purity and sincerity. Picture white fluffy towels, right out of the dryer for that warm and cozy feeling. Using this shade at home can encourage feelings of openness and happiness. White can also give off the illusion of bigger space in a room.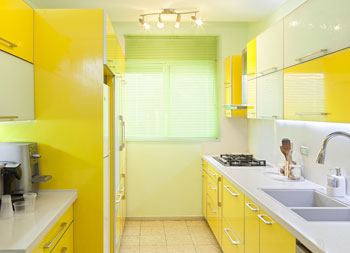 Yellow - We saved the best (and perhaps our favorite) color for last! Yellow signifies happiness and clarity. Think about a colorful canary singing in a field of yellow daffodils. This hard-to-miss hue enhances concentration as well. It is an attention grabbing shade that we think pairs pretty well with black!